Safaricom Youth Orchestra members have been receiving their music lessons through e-learning using 4G-enabled mobile handsets from Safaricom ever since Covid-19 was reported in Kenya.
Started in 2014, the Safaricom Youth Orchestra has seen 120 of its members graduate from its programme.
"SYO brings together 70 children ages between 10 and 17 years from different backgrounds, whose talent spun across four groups of musical instruments; woodwinds, brass, percussion, and strings."
The Art of Music  Foundation runs the Safaricom Youth Orchestra by providing the administrative framework for the orchestra from running yearly auditions, arranging weekly rehearsals, hiring teaching and support staff and instrument care.
Khusoko.com spoke to Levi Wataka, the Music Assistant, a role he has held since 2014. He is a professional music artist who plays percussion, 2nd clarinet and keyboard.
His main role is organising and running orchestral auditions, rehearsals and concerts.  In addition, he supports instrumental education of up to 70 young people each term, working with a team of 12 professional tutors. This involves curriculum development, lesson delivery and assessment strategies, practice strategies in socially diverse and occasionally challenging circumstances.
Levi conducts the Nairobi Music Society Choir where he has been a member for 20 years. He also conducted choirs and orchestras for adults and children in Kenya, Uganda, Tanzania, Scotland, Italy with the Orchestra Philharmonia di Veneto and Venezuela with the Orquesta Sinfonica del Estado Anzoategui.
He sheds more light on why foundational practice is what will elevate the art and music industry in Kenya and why artists need to focus on the good of society.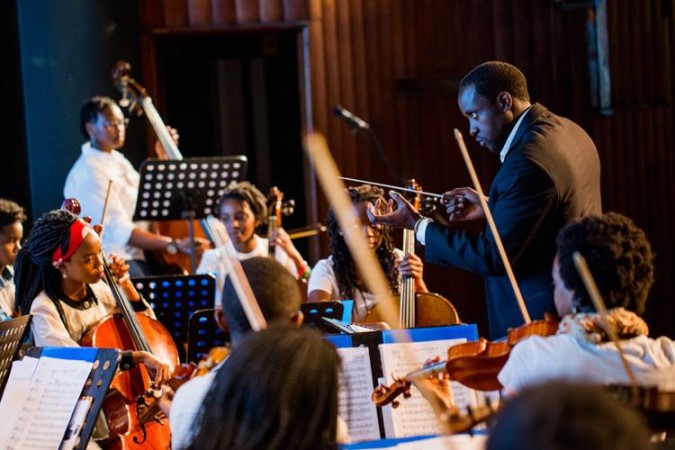 ---
How do you feel that the Safaricom Youth Orchestra since its inception is going to mark its seventh graduation?
Well, the usual feeling at this point is relief and excitement. We are happy to have reached this point because last year was very challenging.
The students have really done well to keep going up to this point and we are very proud of them for the hard work.
We are also very grateful to the entire community that has contributed, Safaricom, The Art of Music Foundation and the children's parents and the tutors who have all worked together to keep going on.
What has been your passion for seeing the children start and realise their dream?
The passion has been to make a difference in the lives of the players through music. That is what we have enjoyed the most.
The purpose of the Orchestra is not just to play music, but to actually support character development and leadership skills for society.
"Our joy has not only to impact the players that plan with us but the communities they come from, homes, schools and churches where some of the lessons are shared with others.
Ideally, all these contribute to improving some of the bigger questions we have in society, discipline, hard work, and consideration about each other.
Following the restriction of activities due to Covid-19, how has your team been coping? Any special arrangements for training?
First, it has been very difficult. For the administration team and tutors, the level of administration has gone up a lot.
It takes a lot more work to plan and execute lessons virtually. I work in music and sports and these two fields are not easy to conduct virtually as they are community-based, you need to be there in person.
The administration and tutors have done absolutely well from extra preparation, detail planning to actually execute quality lessons. This is besides everyone dealing with the effects of the pandemic in their private lives and economic challenges.
For the special arrangements that were done, gratitude goes to Safaricom. We were able to have good quality platforms on which online learning could happen.
Members who could not afford devices, data and coverage, Safaricom came in very strongly and the Art of Music Foundation ensured everyone had a device that had a camera, and a microphone and data to access the lessons.
We were also able to have a licence from Safaricom to use the Microsoft Teams' platform to conduct our lessons.
Tell us how Safaricom Youth Orchestra is helping in nurturing local talent?
First of all, one of the major challenges of learning and playing music is access.
The first problem Safaricom has solved is that of access where players have been given instruments and given the best instruments available in Kenya.
Tutors who have been invited to the Safaricom Youth Orchestra are the top educators in those instruments in the country. Those two things are very special.
Of course, the lessons themselves and the platforms. Over the years, the players have been able to play alongside the top international artists, the Safaricom Jazz Festival, to have the actual hands-on experience of doing that performance.
Not only are they learning the best but also getting some real hands-on experience.
What can we learn from Safaricom Youth Orchestra within the entire ecosystem of art and the music industry?
"We have to practice what we preach" because our society faces major problems today in Kenya and around the world.
Part of the problems are problems of integrity that lead to other vices like corruption among others.
So, we are looking for ways to teach and practice what we preach as best as we can.
Now, Safaricom does through, one, providing something that is of very high quality at no cost to the players and teaching people that we can actually sacrifice for the good of others.
We do not have to do everything for ourselves by considering others and still doing our very best. That is how a society can get stronger by the actual spirit of service. By doing it in practice, words and deeds.
This is the biggest lesson we have learnt through the Safaricom Youth Orchestra and we want to preach it in Kenya and the rest of the world.
How many talents have passed through your hands under the Safaricom Youth Orchestra?
I do not know, that is a big number over the years.
We have worked with many groups both socially and professionally, in music and sports. Also in personal growth in friendships, supporting each through schools and employment. So, it is difficult to have a number on it. We are still in touch with other associations to date.
In your analysis as an expert, what would you like Safaricom, The Art of Music to do more for young talents in the Safaricom Youth Orchestra?
Sustainability in art. Safaricom is already doing really well through the Art of Music.
We need to invest in a culture of sustainability for everybody. When you do art, you need to invest long-term.
Music is a commodity, something that you package and sell is only a very small part of the music.
If you focus on music as an industrial commodity, it cannot be sustainable. This is because the market is volatile and when you do things with a market sense, you end up with winners and losers.
The real purpose of music and art is not industrial, the real purpose of music and art is community. We need to have culture and heritage, social cohesion, the bigger picture, that cannot fit only in the eyes of the world view.
To ensure, art stays sustainable, is to convince ourselves as artists every player that even as you work, try to make a profit and compete in the marketplace, remember your message, to your mother, community those bigger messages are not market place messages, they are society messages that have to be sustainable in the long term.
As we aim for market excellence, we are making sure that we are truly there for society in a manner that counts.
With your experience with the Safaricom Youth Orchestra and working with young talents, what do you make of Kenya's music and arts industry (from the local level to the national and global)?
The Kenyan music industry has the most promise as a direct market both in Africa and internationally.
We can go head to head with South Africa, Nigeria. We can go head to head with Tanzania in terms of artistic output and as well as quality, marketing and all the structures for the market. We are in a good place.
Our industry is fragmented in different ways. Most people end up taking shortcuts to what is apparent quality because we are in a market.
Investing in what it takes to actually excel in the long term is not easy, it takes time.
I would like to encourage those artists in the industry who understand that behind the scenes, there are a lot of hours that go into quality as a way of life. We encourage people to do that and not focus too much on the outward appearance.
(You know, with this Instagram culture and public appearance, people do not put in the amount of work in the practice room but they want to appear to be excellent in public).
You know nowadays it is easy to suddenly pop as a result of going viral. They then stop working hard thinking they have made it.
We do have a lot of artists who work really hard, practice obsessively and put out good quality, that is what will put us apart in industrial terms if we just encourage people to practice based on foundational practice. We need to be getting better.
We need to keep encouraging people to keep on practising and keep getting better no matter what.