Treasury Raises KSh35.4 Bn from 9-year Reopened Bond
Kenya's National Treasury has raised KSh 35.4 billion in its infrastructure bond ( IFB1/2020/9) with an interest rate of 12.05 per cent through a tap sale.
Treasury accepted only Ksh 39 billion from the initial sale besides receiving bids worth Ksh 68 billion. This represented a performance of 168.5 percent.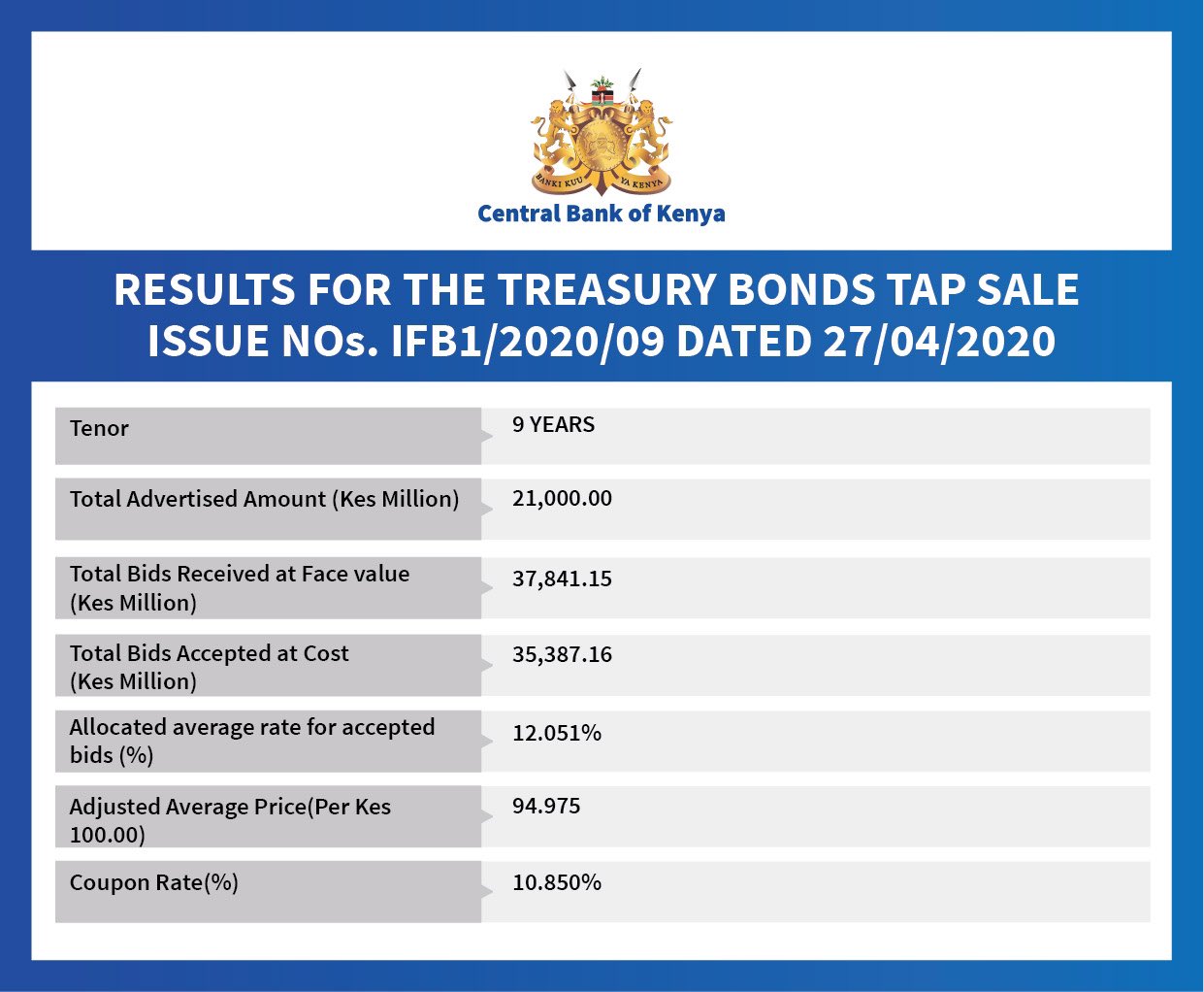 With the reopening of the bond meant to fill the Ksh 60 billion, analysts had projected a cautious approach from investors.
"The Paper is likely to receive fair interest although investors will remain cautious over the proposed amendment to the paper's tax status, NCBA Market Research Analysts had said.
On the other hand, Genghis Capital was of the view that they did "Not expect most of the rejected aggressive bids (+28bps above-average accepted rate) to plug the deficit (Ksh 21Billion). In this environment, we expect elevated appetite for short-term papers, and investors should offload FXD1/2019/5 at 11.0 per cent levels."
However, liquidity in the market helped the Treasury to get KSh 14.4 billion more than the KSh 21 billion sought in the tap sale.
"The money market was liquid during the week ending April 23, supported by government payments, which partly offset tax receipts. Commercial banks' excess reserves stood at Ksh 53.9 billion in relation to the 4.25 percent cash reserves requirement (CRR)," said the CBK in its Weekly Bulletin.
Jibran Qureishi, Regional East Africa Economist at Stanbic Bank said there was no need for a tap sale if the policy environment was predictable.
"No tap sale would have been needed if investors were certain around the future taxation regime during the primary auction. Nonetheless, happy to see that the National Assembly rejected the proposal to introduce taxation on IFBs," Tweeted.
On Wednesday, Parliament passed the Tax Laws (Amendment) Bill 2020 with amendments that retained tax-exempt status on infrastructure and green bonds.
Treasury has proposed an increase in local borrowing for this fiscal year (19/2020) by about Ksh 90 billion to help plug the wider deficit. 
"Reflecting the increased immediate need for funding, the government overdraft at the central bank has risen to Ksh 64.05 billion from Ksh 30.47 billion at the beginning of March," says NCBA Analysts.
READ:
Updated on Saturday, April 25, 2020